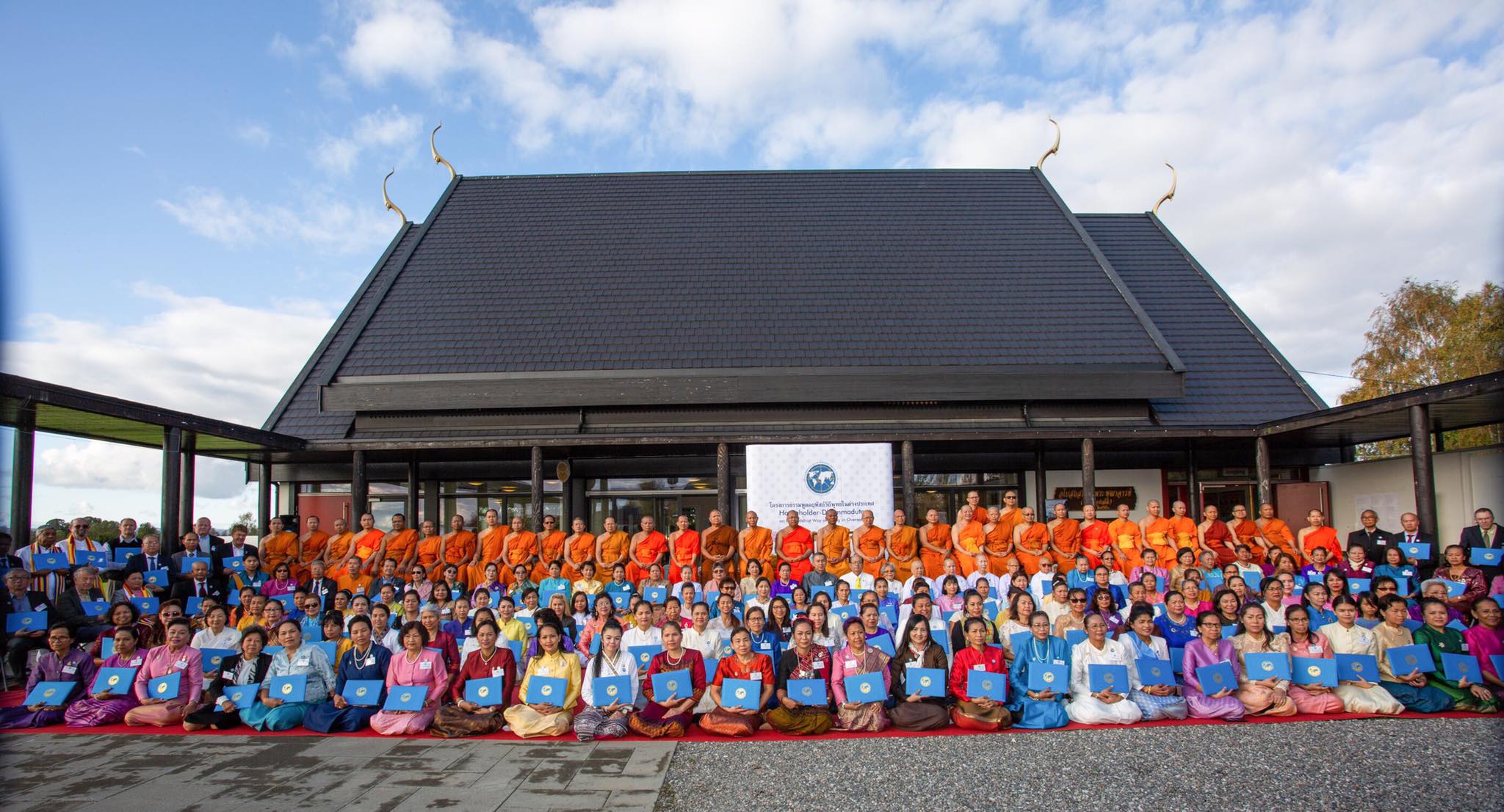 Formidling av buddhismen er ikke bare munkers ansvar
Helgen 27 – 29 september 2019 kom flere hundre buddhister sammen i det thailandske tempelet Wat Thai Norway utenfor Oslo. Formålet med samlingen var å gi de fremmøtte et kurs med tittelen «Householder-Dhammaduta». Tittelen på kurset kan oversettes slik: Householder = lekbuddhist (vanlige buddhister som ikke er ordinert) og Dhammaduta = Lærens budbringer. Med andre ord en samling for å gi vanlige buddhister opplæring i hvordan å formidle buddhismen i utlandet.
Samlingen ble åpnet av munken Phra Sophonvachirabhorn (Sawai Chotiko). Han er Director of Dhammaduta College til Mahachulalongkorn-rajavidyalaya University (MCU) i Thailand. Som vi ser av bildene samlet kurset folk til foredrag, samtalegrupper og samvær med fokus på å lære om hvordan være en buddhist i et vestlig samfunn.
Dette er første gang det holdes et slikt internasjonalt kurs for buddhistiske lekfolk som understreker at formidlingen av buddhismen ikke bare er en oppgave for munker.
En av de ledende munkene ved MCU er Phra Maha Paitoon som har skrevet en rapport om dette arrangementet. Rapporten er på engelsk og kan leses her:
Taking a glaze: Lesson Learn from the Project on Dhammaduta as Householder Operates the Way of Buddhist Practice in Overseas Training Center
for Dhammaduta College MCU, Wat Thai Norway, Norway
—————————-
Project Context
Back in the days when there was no Householder Dhammaduta Project, many people, especially those who believe in Buddhism as a refuge that holds the mind and applies the Buddhist principles in life, were familiar with and heard the word «Dhammaduta» (Missionaries). They may think Dhammaduta is the only monk who propagates Buddhism in different areas. Actually, there were many laymen, both males and females, who were householders of Dhammaduta since the time when the Buddha was alive. It can be seen that the Householder Dhammaduta are an important force in helping to carry on, maintain, drive and extend the propagation of Buddhism to various countries around the world, especially in the Americas and Europe, including various continents before the monk missionaries. It is clear that the Householder Dhammaduta is the initiator by living and doing occupation according to their own suitability, and has taken the spirit of Buddhahood as well, making the way of life be in accordance with Buddhism in a foreign country. Finally, there is an invitation or sending of monks to be a missionary to propagate and make Buddhism more prosperous in overseas countries, having the Householder Dhammaduta as the mainstay and pushing for success, and the Dhammaduta who have traveled to overseas to do religious activities since the past believe that Buddhism in overseas nowadays is prosperous because there is support from the laymen in all respects.
The fact that each country's sangha sent Dhammaduta or apostolic nuncio to propagate the Buddhist doctrine in various civilizations for many decades shows that the mission was performed successfully at an advanced level because of the constant support of the Householder Dhammaduta, both males and females, who lived in that country before. For this reason, Wat Thai Norway, Norway, foresees what the Householder Dhammaduta have and have done and aims to honor the laymen of all nations around the world who have fostered, supported, promoted, protected and propagated Buddhism to be visible and to be proud in performing duties as Householder Dhammaduta, therefore, the temple together with Mahachulalongkornrajavidyalaya University (MCU) by Dhammaduta College, and the Union of Thai Sanghas in Europe, Thai Airways International Public Company Limited, and Thai Buddhist Union in Norway, organized the first Buddhist Householder Dhammaduta Project in the world on 27-29 September 2019 at Wat Thai Norway, Oslo, The Kingdom of Norway. There were more than 328 Buddhists in 11 countries, including Norway, Finland, Netherlands, France, England, America, Austria, Sweden, Germany, Switzerland, and Thailand, participated in this event. It is considered that this event gathered those who believe in Buddhism to step forward in rightful wisdom and take pride in their duties as Householder Dhammaduta.
It begins when the Householder Dhammaduta travels to a foreign country with their behavior as Buddhists, such as being humble, kind, etc., or some people take amulets or Buddha images that they respect together, and some of them pray to motivate themselves while working in the foreign country. When they can settle themselves firmly in the country, they return to their homeland and invite the monk to be stationed in the foreign country. If there was no support from the Buddhist layman on the first visit of the monk, it would be difficult or inconvenient because different countries use different languages and cultures. The monks are facilitated by the Buddhist laymen when they are in foreign countries, in terms of convenience and four requisites, namely, food, money to buy land and build the temple, robes, necessary clothing, and offering pharmaceuticals, which are generic drugs. Finally, monks who come to propagate Buddhism are able to learn foreign cultures and bring younger Dhammaduta to propagate Buddhism further. Anyhow, in overseas, the Dhammaduta are limited in their missions. Compared to a layman, it is still considered less successful. A layman has the ability to persuade foreigners who are local residents of that country to respect and follow the principles of Buddhism much more. When there are activities in the temple, people usually use the Thai language for communication. Foreigners, persuaded by Thai people, who come to the temple do not understand the Thai language, but they can understand because Thai people who know the local language help to translate. In addition, when visiting the temple regularly, foreigners will appreciate the ways of Buddhist practice, turn to be Buddhists, and become an important force in persuading their relatives to come to the temple as well.
Project Implementation
The Wat Thai Norway, together with Mahachulalongkornrajavidyalaya University (MCU) by Dhammaduta College, and the Union of Thai Sanghas in Europe, Thai Airways International Public Company Limited, and the Thai Buddhist Union in Norway, held a meeting to organize the event to achieve the objective that has been set.
In the implementation, there were appointments to various fields of committees, namely, support committee, administration committee, academic committee, venue committee, hotel committee, reception committee, public relations committee, amplifier and electricity committee, video recording and graphic design committee, venue and toilet cleaning committee, vehicle committee, general beverage committee, kitchen and almshouse committee, monk's food committee, first aid committee, accounting and financial committee, ceremonies and ordinances committee, agenda committee, registration and documentation committee, secretarial committee, and event evaluation and general work committee. Each committee held internal meetings to assign the duties of each person to be consistent with the project. In other words, it was very good preparatory work.
The Success of the Project Implementation
The implementation of the project on Dhammaduta as a Householder Operates the Way of Buddhist Practice at Wat Thai Norway Temple, Norway, was a great success because there was very good preparation for the project. The agenda was prepared as a book where the project implementation was mentioned clearly. There were committees in various fields. The accommodation and venue were appropriate. There were cooperative organizations participating in the event. Bags and souvenirs were given to everyone who participated in the project. In addition, it was essential that there be a large number of people in Norway, and European people and Buddhists in general, interested in attending the event. Therefore, the event successfully achieved the objectives that had been set in the matter of promoting the unity of the Householder Dhammaduta in a foreign country, leading to an understanding of being a Householder Dhammaduta in order to support and promote, protect, and propagate Buddhism, and create a very impressive picture of the people who participated in the project. A small network was created in the form of a group that would be used to communicate with each other. There was a motivation to be Householder Dhammaduta and such projects are to be organized again and again.
The Limitations of the Project Implementation
The implementation of the project is not only a great success, but there are also obstacles or limitations. When problems, obstacles, and limitations can be seen, they can operate successfully. The Householder Dhammaduta Project has not achieved all objectives yet, especially to increase efficiency, ability upgrade, mechanism creation, Householder Dhammaduta network expansion overseas, and promote the practice of meditation among Thai and local people according to the objectives set. Anyhow, all these issues are considered guidelines that can be used as a plan for further implementation.
The author had a chance to work on this project and saw that there were still some objectives due to the limitations in terms of the duration of the project implementation and the limitations of the trainees who were obligated to work, which made it inconvenient to stay for a long time. There were also limitations in terms of the location where the project has used the upper ubosot, which is a large room suitable to accommodate people who come together to do activities together in the amount of 150–200 people, not more. As for the accommodation, the project booked a hotel room for 2 nights and 3 days on Friday, Saturday, and Sunday. It is appropriate to satisfy the participants in the project. If the project takes more than one day, the cost of the accommodation will be increased. The host rented the accommodations near the temple as a place for participants to stay comfortably. Of course, if the event was held for several days, the rent for the accommodation would increase accordingly. In addition, due to work, many people could not attend the project. Many teams from Thailand or those who live in Norway and nearby countries had limitations in terms of work duration as well. Furthermore, the project was held during the Buddhist Lent period, when the monks who traveled to Norway can stay for 7 days in accordance with the regulations permitted by the Buddha, allowing the monks to leave the area of Buddhist Lent for a period of not more than 7 days normally.
As for project hosts, there are limitations in the management of personnel, location, and budget for project implementation. If the duration of the project increases, it will result in more diversified management of personnel, location, and budget.
Project Extension
Extension is to develop a project that has already been implemented to make progress or to get better results. It is imperative that the Project on Dhammaduta as Householder Operates the Way of Buddhist Practice in Overseas should be further developed in terms of organizing a project to honor all the laymen for their Buddhism patronage, support, promotion, protection, and propagation. The implementation of the Householder Dhammaduta Project, organized for the first time at the Training Center for Dhammaduta College MCU at Wat Thai Norway, Norway, is considered a starting point and has been able to achieve success as an example for other places to replicate the model to be used for further success without emphasizing on training, but should aim to honor the Householder Dhammaduta and the creation of mechanisms and a network of Householder Dhammaduta in overseas to be stable first. Each project implementation must develop mechanisms and create a network. However, the hosts that will organize next often believe that the laymen need training before they can become missionaries without seeing that the laymen who have come to live abroad and have served as missionaries before having not yet been clearly honored.
On the other hand, further extension in terms of increasing efficiency and upgrading the competence of Householder Dhammaduta abroad and promoting the practice of meditation among Thais and locals can be achieved through finding out more by themselves by listening to the teaching of knowledgeable senior monks, or by enhancing the potential and upgrading the ability of Householder Dhammaduta, including the practice of meditation, by organizing a specific training course, which can be done online or by making a course for Householder Dhammaduta to apply for potential development by choosing as they want. The level of knowledge of each course must be measured, and there must be a certificate for those who have passed the course after having gathered a sufficient amount of the Householder Dhammaduta database. However, it must not be forgotten that the Householder Dhammaduta sacrifices their time to come to the temple and support the monks in the four requisites that are always practiced in real life. It's a better test than training in theory, and when everyone has practiced it, they can compare that practice with the theory in various subjects in Buddhism, including when organizing a project. They can bring what the laity already practiced, compared and explained to show that it corresponds to the teachings of Buddhism on a variety of issues, and they can be talked about in a way that is related to each other and can provide a complete complementary practice as well.
The fact that the Householder Dhammaduta has been taking care of, supporting, promoting, protecting, and propagating Buddhism is something that should be clearly honored. Most importantly, the organization of the Householder Dhammaduta Project has resulted in the gathering of Householder Dhammaduta around the world as an important base for building a mechanism and a network of Householder Dhammaduta. When there is a mechanism and network, a householder can be developed to  be progressive on his own potential in terms of the right wisdom under the concept of the Noble Eightfold Path and to be harmonized together as the World Householder Dhammaduta Organization in order to have a thorough understanding of the true Dharma and apply it until he sees the results for himself and sees the value and benefits, he has received. Then everyone will help to inherit, preserve, and continue the propagation of Buddhist principles by giving opportunities for others to experience the dharma principles that contribute to sustainable self-life and public peace, while helping to drive the mission of Buddhism to progress steadily.
By Phramaha Paitoon Pantananto (Wannabud) Ph.D.
Mahachulalongkornrajavidyalaya University (MCU)
Project Operator and Data Analyst
—————————-